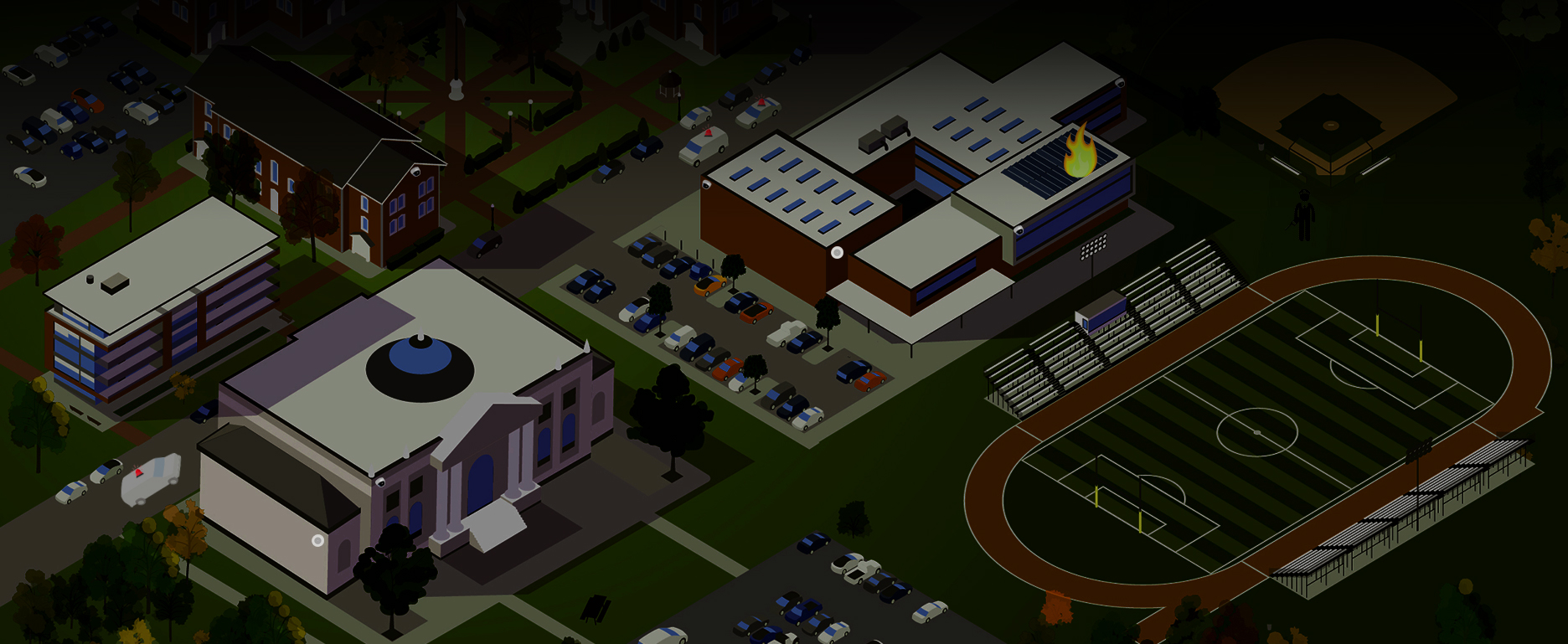 University campus security case study
Cistera delivers key enhancements for University Police and EMS teams communications
Cistera enhances University Police and EMS teams communications to improve safety and security. In response to campus growth and mandates for enhancements to campus security, safety and EMS, a leading Texas university turned to the Cistera suite, a decision that proved to have significant advantages.
Respond faster
University police and emergency teams can act more quickly to on- campus 911 calls.
Promote best practise
Recordings are used to improve staff training and review department response.
Ensure compliance
Ability to monitor and enforce safety and security policies ensuring a safe environment.
Support investigations
Retain phone and radio recordings to investigate or reconstruct events, and provide evidence.
Situation
The University Police Department or UPD is a state sanctioned agency with 25 uniformed officers and several detectives under a Police Chief. It manages a fleet of vehicles, communications and dispatch, and maintains patrols to deter and detect crime, report fires and safety hazards, and control traffic on campus.
As a part of its charter, the department also works closely with county law enforcement responding to events or incidents on campus or mutual aid requests off campus.
To enhance safety and security practices, dispatch center communications (phones and radios) are recorded and retained, and all phones on campus are monitored for outbound 911 calls with notifications send to the dispatch officer.
Solution
Cistera worked closely with UPD to define the best way forward and maximize the value of the university's investment in its communication systems. Three components of the Cistera Suite were adopted and deployed:
Cistera's RecordIT and LMRConnectIT provide recording of phone and radios in a single server based deployment utilizing the university's IP network.
Redundant recording servers were installed, one in the University Police Building and the other at the campus data center. These capture all calls into the dispatch center, phone-to-radio traffic and all radio-to-radio traffic including dispatch to officer, officer-to-officer, and campus-to-county dispatch.
Recordings can be immediately retrieved and reviewed from any device via secure login.
Cistera AlertIT monitors the on-campus phones and provides notification to dispatch when a 911 call is placed. This allows both university police and emergency services to respond immediately and triggers recording of the call for investigative follow up.
AlertIT records the call yet does not intercept or interfere with county dispatch communicating with the caller. For outbound notifications, AlertIT also provides paging by voice or text to the campus phones in the event of an on-campus incident, or external event such as adverse weather.
Deployment
Deployment was completed in two stages.
First stage. Install and activate the phone recording components. This included automatic recording of specific phones and any incoming calls, along with on-demand recording for detectives during investigations or incident follow up.
Second stage. Activate the Radio-to-Radio recording on the same servers by connecting base radios to the IP network. This enabled university police to actively record all 5 channels in use on campus including County Dispatch for mutual aid events.
Why Cistera
Cistera will fit into existing environments
Cistera utilizes your existing phone and radio networks and IT infrastructure along with commonly available network components to deliver a robust, secure and scalable solution.
Cistera deployments are:
Cost-efficient: No need for costly purchases or upgrades
Fast: The solution can generally be up and running within days
Low risk: No complex integrations to manage.
A single source of expertise
No need to manage multiple vendors. The Cistera Suite provides end-to end-capabilities including:
Phone Recording
Radio to Radio Recording
Event Alert and Notification
Comprehensive Analytics of call traffic, recordings and users
Single Server, Single Administration implementation with High Availability options.
Single administration means all application components are managed through a single portal
Installs onto a VM (VMware or Hyper-V)
Allows for redundant operation.